6 Best Honeymoon Destinations in Egypt
Lifestyle
Konafa Team
2 months ago
Getting married soon but time and/or money not on your side when it comes to the honeymoon? Absolutely no shame in that — you don't have to travel across the world and go into debt to have a great, romantic time with your new spouse. Egypt has a handful of honeymoon spots that are pretty fantastic, and many a foreign couple actually choose Egypt as their honeymoon destination. The following hotels/villas might not be cheap, but you'll find yourself saving a ton on airfare and meals (not to mention you don't have to pay dollars/euros!).
1. Oberoi Sahl Hasheesh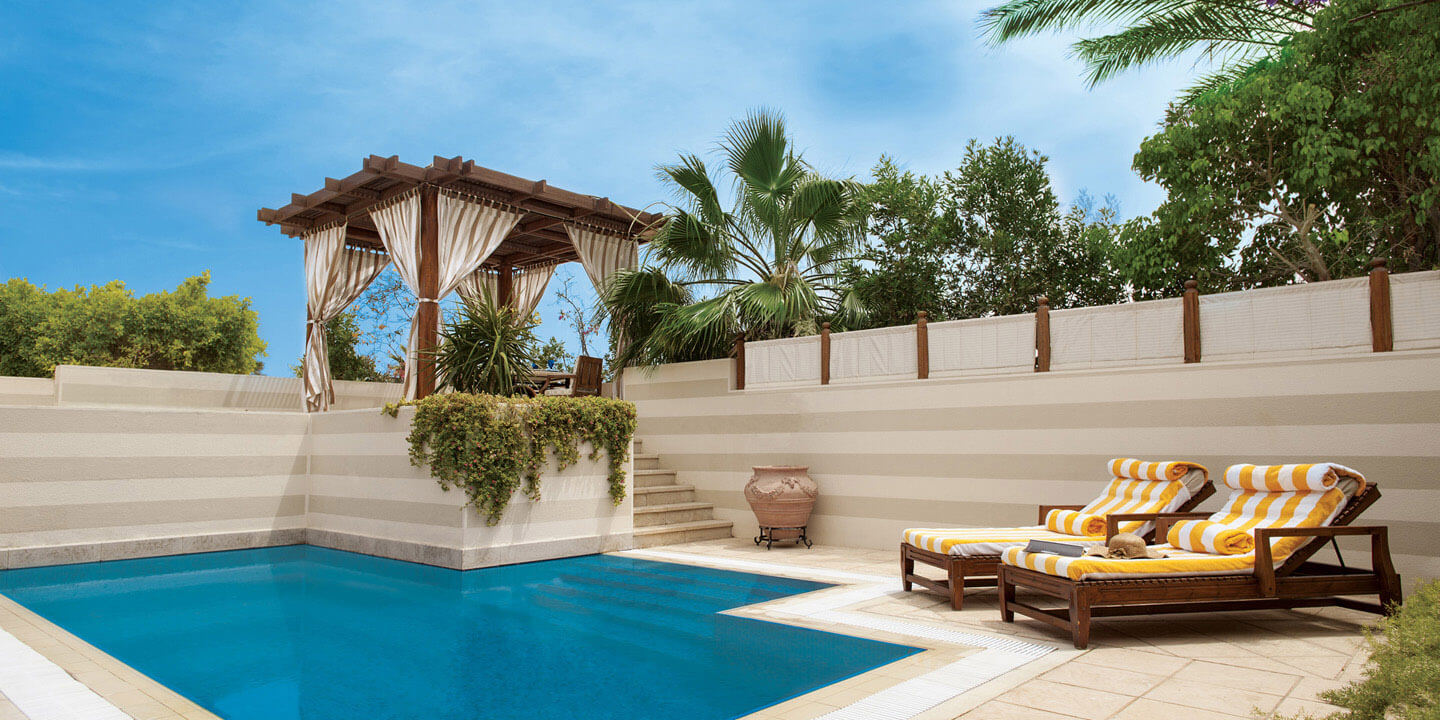 The Oberoi in Sahl Haseesh offers private pools, 24/7 in-room dining and a sunken marble bathtub in the ensuite bathroom when you book the Grand Suite or the Royal Suite — that's besides the fact that the hotel is right on a beautiful beach. It's an easy drive from Hurghada Airport, but if you want to save on plane tickets, you can have your first road trip as a married couple and drive there from Cairo (about 4-5 hours).
2. Four Seasons Sharm El Sheikh
Enjoy your own private terrace and plunge pool if you book the one-bedroom suite at Four Seasons in Sharm. Besides the king-sized bedroom and sunken bath, there's a full living room and sea views from every window (plus your terrace!). If you get bored of your own pool, there are 4 others in the resort. 
3. Your own villa in Gouna
Rent your own villa in El Gouna on Airbnb like the one pictured above. Plenty of space, privacy, your own pool, garden… and many of these villas have their own private beach access. Gouna also has amazing restaurants, so when you want to venture out of your honeymoon haven, you won't be disappointed. 
4. Luxury Nile Cruise (Luxor & Aswan)
There are several luxury cruise ships to choose from (the one pictured above is the Oberoi Zahra). Most of these ships have all the facilities of a usual hotel: pool, gym, 5 star food, jacuzzi, super comfortable room… plus the added benefit of the Nile all around you. The ship docks in places of interest between Luxor and Aswan, and the crew can easily arrange transportation and guides for you.
5. Tarfa Lodge & Sanctuary, Dakhla Oasis
If you and your husband/wife are beyond stressed post-wedding and can't stand to see, talk or text anyone else, then Tarfa is for you. This remote ecolodge in the desert next to Dakhla Oasis is remote, private and luxurious — the perfect place to relax and just enjoy each other's company. It's not easily accessible, so all you need to do is switch off your phone and you two are in your own little world. Check this for more Egyptian ecolodges. 
6. Jaz Aquaviva, Makadi Bay
Jaz Aquaviva is perfect for couples who like to relax but who also want to do something a bit out of the box. And that's where Jaz's Water World comes into play. Besides being ranked as the 4th best hotel in Egypt by Trip Advisor, Jaz is also known for its water park; fun for both adults and kids. And when you had enough slides, rafts and waves, you can relax at your own private pool or at the adult's only swimming pool. 
566
LET US INTO YOUR INBOX.
WE PROMISE WE'LL BE GOOD.