Travel
7 Underrated Spots In Africa Every Egyptian Should Visit
Why is it that Africa, our very own continent, is the one we explore the least?
When Egyptians choose their travel destinations, it's easy to predict where they're flying to: Europe, Dubai, Beirut. Asia is also slowly growing in popularity (Thailand, Bali, Sri Lanka, the Philippines). But what about our own continent (and a massive one at that), Africa? Africa is three times the size of Europe and has sights literally unlike anywhere else on the globe, but so few Egyptians have ventured beyond our borders to actually see what the rest of the continent has to offer.
Recently, travel groups have been arranging trips to well-known places like Zanzibar and Cape Town, which is a good start. But that's only the tip of the iceberg of what Africa has to offer.
1. Cape Maclear, Malawi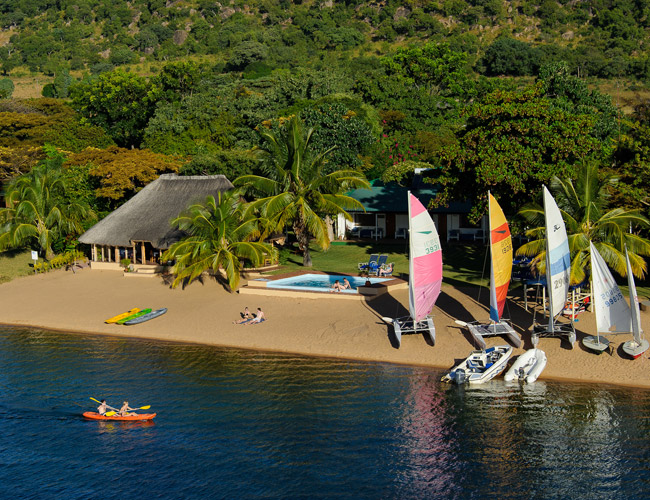 Cape Maclear is on Lake Malawi, one of the biggest lakes in the world (around the size of Belgium), and is home to more fish than any other lake in the world. It's also easy to forget that it's a lake and not a sea, due to its size, depth and sandy beaches. Cape Maclear is one of the most happening towns on the lake, with restaurants,  beach bars, lodges, easy access to islands and tons of activities. 
Things to do: scuba dive in the world's first freshwater nature reserve, a variety of water sports, take a boat to Mumbo Island (a private, eco-friendly island popular with backpackers).
How to get there: fly from Cairo to Lilongwe, Malawi's capital. It's then a 3 hour drive from there (you can arrange a transfer, rent a car, or take public transport). 
Prices (not including flight): cheap. There are no fancy chain hotels there, only local lodges, so a night in a double room in a lodge on the beach with its own pool will be around 300 EGP. 
Best time to go: early May to late October. November-April is the rainy season. 
Visa: Needed. It takes up to two weeks to process and costs $70 if you're staying for less than 7 days, $100 for more than 7 days. 
2. Sossusvlei, Namibia
Probably the most famous natural attraction in Namibia, Sossusvlei is a salt and clay pan surrounded by red sand dunes, in the Namib desert (a desert that stretches all the way into the Atlantic Ocean). Their famous red dunes are some of the highest in the world, with some reaching heights of 380 meters. The park in which Sossusvlei is in has accommodation ranging from camping to luxury lodges. 
Things to do: Visit Deadvlei (a white salt pan with contrasting black camel thorn trees), take a 4×4 for dune rides, visit the "Big Daddy" dune and the Sesriem Canyon. 
How to get there: fly from Cairo to Windhoek, Namibia's capital. It's then a 5 hour drive from there. Most people rent their own cars because there's no public transport, but a lodge there offers a day trip shuttle from Windhoek to the park and back for about 430 EGP per person. 
Prices (flight not included): Besides the cost of the rental car, you can camp, which will cost you almost nothing, or you can stay in one of the lodges (prices vary based on the luxury of the place). 
Best time to go: March to May or August to October for ideal temperatures and weather conditions.
Visa: Needed. 
3. Livingstone, Zambia
A small town near the border with Zimbabwe and right next to Victoria Falls, Livingstone is the perfect destination if you're an adventure-seeker. Victoria Falls is twice as tall as Niagara Falls and several times wider, so cross Niagara off your bucket list and replace it with Victoria Falls. The town itself is walkable and safe, and offers an array of restaurants, bars, clubs and adventure services which will set up all your activities. 
Things to do: cross the gorge on a narrow bridge so you're literally on top of the waterfall (not for those afraid of heights), view the waterfall both from the top before it plunges, and from the bottom (prepare to get soaked). There's also white water rafting, bungee-jumping, zip-lining, the Zambezi swing, bodyboarding, abseiling, swimming in Devil's Pool (a current-free pool right at the top of the falls), microflights over the falls, elephant safaris, lion safaris, and visiting the neighboring nature parks.
How to get there: you can either fly from Cairo to Livingstone (with a transit usually in South Africa), or fly to Zambia's capital Lusaka then take an hour and a half flight to Livingstone.
Prices (not including flight): it really depends, because Livingstone is all about the activities, each with a different price. Accommodation offered is everything from 5 star hotels to hostels.
Best time to go: May to October.
Visa: it's an e-visa that takes between 3-5 days to be issued.
4. Benguerra Island, Mozambique
This island off the coast of Mozambique in the Indian Ocean was declared a National Park, and no wonder. Home to 5 star luxury boutique hotels and white unspoiled beaches, Benguerra has the type of vibe and view exclusive to places like the Maldives or Bora Bora. 
Things to do: relax, dive, swim, relax, horseback ride, deep sea and fly fishing, relax, dhow cruises, see the rare dugongs in their natural habitat, romantic castaway picnics, and relax.
How to get there: Fly from Cairo to Johannesburg, South Africa or Maputo, Mozambique. Then take a short flight to the small coast town Vilanculos in Mozambique, where you'll take a boat to the island (or helicopter if you're living large!)
Prices (not including flight): EXPENSIVE. This place is a luxury, getaway destination all the way, perfect for honeymooners who want to have a once-in-a-lifetime trip and not worry too much about budget. At andBeyond, the hotel pictured above, prices start from $785 per person, per night. But ask about their honeymoon packages, they usually offer some deals.
Best time to go: Year-round. Some rain happens from November to March, but usually in short bursts.
Visa: on arrival. 
5. Volcanoes National Park, Rwanda
This park in Rwanda is for the animal lovers — gorillas to be exact. It's estimated that there are about only 880 mountain gorillas still in existence, so seeing one could be not just a once-in-a-lifetime event, but a once-and-never-again, forever, event. 
Things to do: Hiking and gorilla trekking. It's not as straightforward as that though; you have to apply online for a gorilla trekking permit and rent the correct gear. You can find more information about gorilla trekking here. 
How to get there: fly from Cairo to Kigali, Rwanda's capital. From there you can either do a day trek (drive to Volcanoes National Park and back, about 2-2.5 hours each way), or you can stay at a lodge in the park and they'll send a car to pick you up from Kigali. 
Prices (not including flight): Expensive. A gorilla trekking permit costs $1500 per person. 
Best time to go: December to March and June to September.
Visa: e-visa/visa on arrival.
6. Trou-aux-Biches, Mauritius
A former fishing village, Trou-aux-Biches maintains its laidback, island life vibe until now. This little town offers the most beautiful beach on the island of Mauritius, in the Indian Ocean, and is also home of Mauritius' largest Hindu temple as well as known for its spectacular sunsets. 
Things to do: swim, snorkel, scuba dive, watch the sunset with a drink, go to the aquarium, visit the temple.
How to get there: fly from Cairo to Port Louis, the capital of Mauritius. Trou-aux-Biches is an easy 25 minutes away, and there are public buses that can take you. 
Prices (excluding flight): accommodation varies, depending on what kind of hotel/hostel you're staying in. Food and drink cost more than Egypt but less than Europe.
Best time to go: May to December. 
Visa: not needed.
7. Sidi Bou Said, Tunisia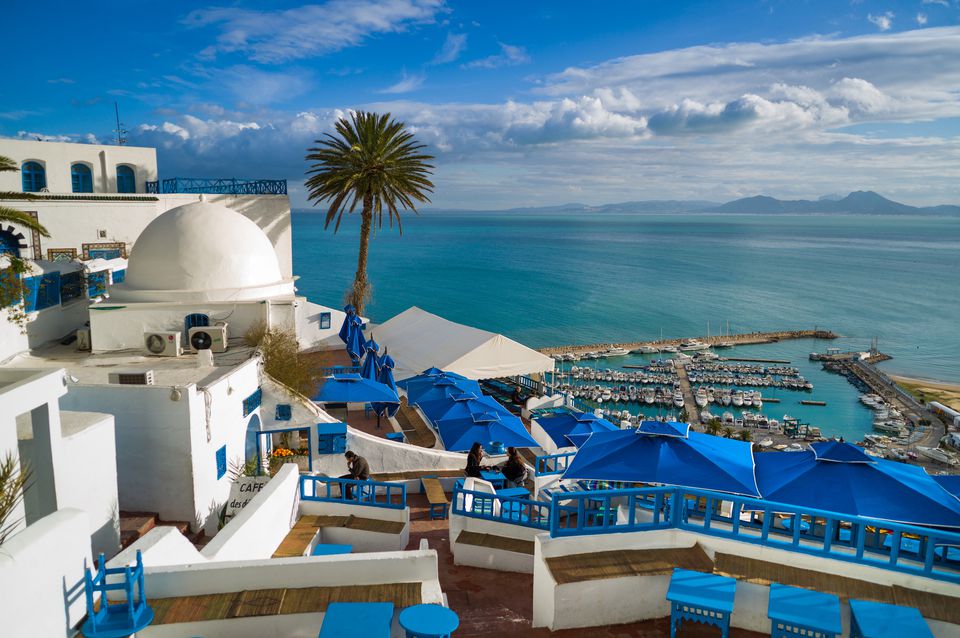 Known for being a town of artists, Sidi Bou Said is also famous for its white and blue architecture, reminiscent of Greece. It offers spectacular views of the Mediterranean as well as plenty of cafes, restaurants and boutique shops. 
Things to do: explore the Roman ruins of Carthage, browse the souq, shop from local boutiques and vendors, have a drink at one of the cliffside restaurants, check out Palace Dar Nejma Ezzahra.
How to get there: fly from Cairo to Tunis, and then Sidi Bou Said is half an hour from there. You can go by either car or rail. 
Prices (not including flight): cheaper than Europe.
Best time to go: April to September.
Visa:  needed.