Entertainment
You Should Watch: Bee and Puppycat
IT'S SO CUTE I'M GONNA DIE
If you're into animated series of the current generation, and you're over the ripe old age of 18, you'll notice there's a trend going on when it comes to world-building or storytelling. Cartoons now, especially ones done by smaller entities, are much more vivid and colourful. In addition to tackling much more grown-up subject matter than what we grew up on in the past. Sure, shows like Bojack Horseman and Big Mouth (for example) market themselves are purely adult-oriented. But something like Adventure Time? Way too grown-up, and yet, it hardly ever shows.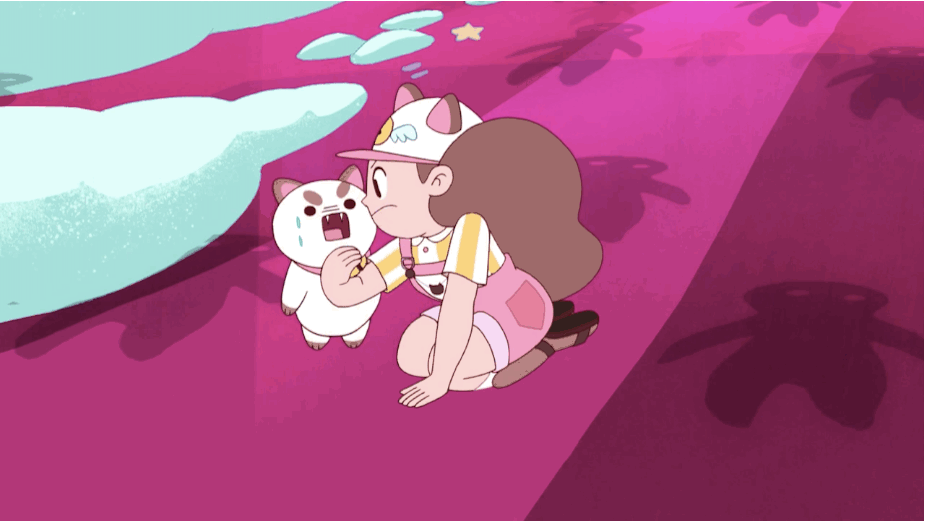 As I was browsing the online wasteland looking for things to write about, a friend of mine sent me an hour-long video titled "Bee and Puppycat." Hour-long videos aren't really inviting unless they're well and truly spectacular. And in this case, I felt it was far, far too short.
What Is Bee and Puppycat?
Bee and Puppycat is a strange little animated web series with about ten episodes so far, taking up about an hour and some altogether. It's made by some of the same folk who made Adventure Time, and it shows in the best of ways. Bee is a ditzy, charming, and adorable twenty-something who stumbles upon a seemingly always-mean little kitten/puppy hybrid (voiced entirely by a bit of software). She decides to call him Puppycat, and their whole thing each episode is to take on temporary jobs to pay Bee's rent. Like most good shows out there, the premise is painfully simple.
What's Special About It?
Though it might not matter to most, Bee and Puppycat is one of the now-few examples of crowdfunding that actually worked out far, far better than anybody expected. After making a ten minute episode and throwing it out there, folks were hooked. And after putting their ideas up on Kickstarter, Cartoon Hangover – the studio behind the shiw – were able to collect $872,133 in a month. They had enough to produce a full run of the show, and since its funding date, Bee and Puppycat became the most successful animation Kickstarter in History (to date).
The whole show flows like a dream, if one were to wax poetic about it. The animation, although seemingly simple, manages to give each and every second of viewing a memorable quality to it. The beautifully painted backgrounds, the character movements and gestures, Puppycat as a concept and execution, it all meshes so well. It's one of those few kiddy-looking cartoons that drags adults in effortlessly, especially if they're tired and beaten up from living in the 21st century.
It takes immense talent from a writer to translate mundane life situations into whimsical adventures from start to finish. Bee and Puppycat's day-in-day-out routine is to work quick gigs to afford to live, and that can take them anywhere from a dimension where some…thing has to make celestial donuts for delivery across the galaxy, to a sauna full of giant cats who use Bee as a pet (role reversal is always fun). The dialogue is expertly crafted and flowing, never feeling like the schlock you're used to from old-timey cartoons. The whole package is just an adorable romp that's easy on the eyes, and more importantly, the mind.
Each character is appropriately fleshed-out for their role, and character development takes a steady, cute pace throughout. For example: Deckard is an extremely talented baker who wants to go to culinary school to pursue his dream, but he has a thing for Bee. Bee is, much like most of us, aimless, and not very aware of the effect she has on those around her. Deckard is now torn; does he go to school and leave Bee on her own? Or does he put his life on hold to pursue a love he doesn't know is even real, much less, healthy? This is something some of you struggle with now, in your 20's and 30's. And yet, it's taken on over the run of the show slowly, methodically, and with bumps along the way, much like the lives we live and the experiences we go through.
THIS IS SO CUTE
Yes, it really, truly is. And at the same time, you're pulled in by the scruff of your neck to watch the whole thing unfold from beginning to end, not wanting it to reach its (frankly confusing) conclusion. We live in harsh times now, friendos; the world outside can take its toll on you in so many ways. And when it comes to escapism, reality still finds a way to bleed into our entertainment outlets. That's not a bad thing all the time, but how it's presented is what truly matter. Bee and Puppycat isn't just an insanely cute romp, it's a form of adorable therapy, and a treat for the heart and soul.
Bee and Puppycat is expected to continue with even more amazing episodes this year. For the full thing so far, check it out over here.